Paper Chained is a journal of writings and artistic expressions from individuals affected by incarceration. This journal is an autonomous publication collated and distributed by the Running Wild collective.
We are currently seeking contributions for our first journal publication. If you are currently in prison, have experienced time in prison or have a loved one in prison, we welcome your contributions to this journal!
Our current goal is to release the first issue of Paper Chained in October 2017, with a deadline for contributions on August 31st, 2017.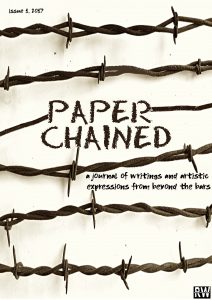 HOW MUCH WILL IT COST? WHERE WILL IT BE DISTRIBUTED?
The journal will be available for free or for donation where someone feels they are willing and able to contribute. It will be distributed to any prisoners who request a copy and to subscribers who can request copies online. An electronic version of the publication will be made available on this website.
We also aim to send bundles to book stores, libraries and community centers if funds permit.
All donations will cover the costs of printing and distribution of the journal. No profit will be kept by any individual, any excess will be directed to projects working towards prisoner justice.