Paper Chained is a journal of writings and artistic expressions from individuals affected by incarceration. This journal is an autonomous publication collated and distributed by the Running Wild collective.
Our current goal is to release the first issue of Paper Chained in 2017, once we have received a minimum of 12 contributions.
CALL-OUT FOR CONTRIBUTIONS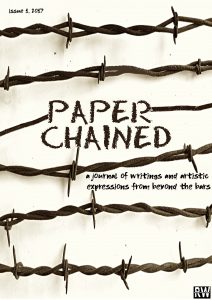 We are currently seeking contributions for our first journal publication. If you are currently in prison, have experienced time in prison or have a loved one in prison, we welcome your contributions to this journal!
Please read below for more information.
WHERE TO SEND CONTRIBUTIONS?
Contributions can be:
EMAILED to runningwild@riseup.net
OR
POSTED to PO Box 1989, Armidale, NSW 2350 AUSTRALIA
WHO CAN CONTRIBUTE?
We welcome contributions from prisoners, ex-prisoners and family members of prisoners. Please indicate whether you are a current prisoner, ex-prisoner or family member in your contribution.
WHAT TO SEND IN?
Contributions can be writings in any style, and we also welcome artwork such as drawings. We ask that text does not exceed 1, 500 words per contribution.
Contributions may be anonymous.
Writers are welcome to include any/all of the following if they wish to but we would like to stress that there is no obligation to include any identifying information about yourself at all.
Your name or a pseudonym
Your age
Your charge/s
Your sentence duration and expected release date
Your occupation/hobbies prior to incarceration
Any other details you would like published about yourself
You are also welcome to include the following, which would never be published or shared:
An address for you to receive a copy of the published journal (this could either be your address in prison or an address on the outside you can access at a later date – we appreciate your prison address may not be reliable if you are moved or if the journal is deemed inappropriate by authorities)
A return address if you would like us to let you know we have received your contribution.
TERMS OF PUBLICATION
Handwritten contributions will be typed unless the author requests to have a scan of the original text presented in the journal. Contributions will be typed exactly as the original is written unless the contributor indicates "PLEASE EDIT" in their entry. We will then be happy to correct any spelling or grammar errors, however we do not feel that perfect spelling and grammar are in any way necessary to meaningful communication.
We will not publish any contributions that directly or indirectly contain: racism, sexism, transphobia, nationalism, xenophobia, ableism or any other form of oppressive language.
HOW MUCH WILL IT COST? WHERE WILL IT BE DISTRIBUTED?
The journal will be available for free or for donation where someone feels they are willing and able to contribute. It will be distributed to any prisoners who request a copy and to subscribers who can request copies online. An electronic version of the publication will be made available on this website.
We also aim to send bundles to book stores, libraries and community centers if funds permit.
All donations will cover the costs of printing and distribution of the journal. No profit will be kept by any individual, any excess will be directed to projects working towards prisoner justice.